Marbella Estate Resort Jan Thiel
The Marbella Estate Resort is a secured resort near the bustling Jan Thiel Beach. One of the most popular places on Curacao for a wonderful vacation on Curacao. Rent a villa on Jan Thiel and you are already at the popular Jan Thiel beach in a few minutes! In 10 minutes you are also at the great Mambo Beach. The villas on Marbella Estate Jan Thiel have a lovely private pool or are located near the large communal swimming pool with children's pool. You can choose from more than 25 holiday homes at the Marbella Estate Resort Jan Thiel Curacao, view all holiday homes below and enjoy a wonderful holiday on Dushi Curacao.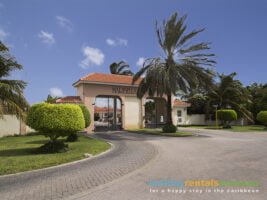 Vacation rentals Marbella Estate Resort Jan Thiel
Is there a supermarket within walking distance of Marbella Estate?
At the park of Marbella Estate there are no other facilities such as a supermarket or restaurant. The van den Tweel supermarket on Jan Thiel is the closest. It is only a few minutes by car. If you go on foot, you can count on 20 minutes.
Where is Jan Thiel Bay?
The Jan Thiel Bay is a bay in the southeast of Curaçao. It is about 5 km from Willemstad and 10 km from the airport. It has a beautiful beach and is an excellent location for relaxing on a beach chair, snorkeling or diving.
Is Jan Thiel beach free?
The entrance to the beach is 6 ANG / 3 dollars. The beach chairs can be rented from 6 ANG / 3 dollars. You can also rent Cabanas, but it is best to book them in advance.
Do I need to rent a car on Curacao?
We definitely recommend renting a car on Curacao. Public transport is not yet very well developed and taxis are relatively expensive on Curacao. The island of Curacao is ideally suited to discover the beautiful diverse island with your rental car!
All Holiday Homes on Curaçao
Not found what you were looking for?